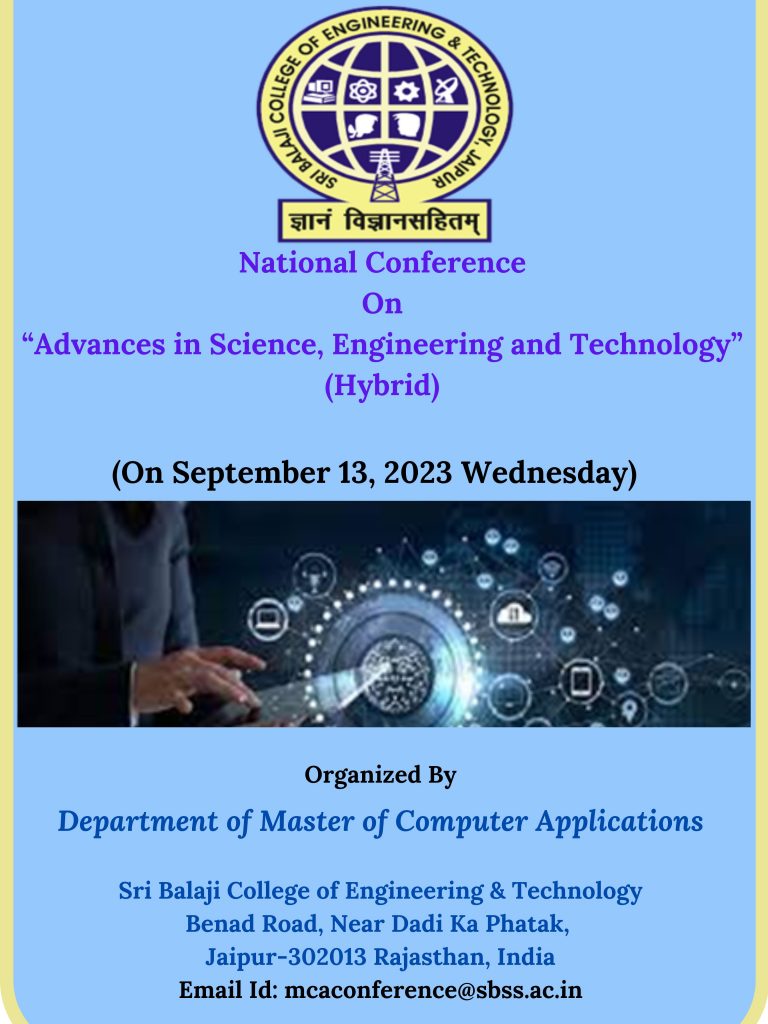 Welcome to the official website of the National Conference on Advances in Science, Engineering & Technology (NCASET-2023) organized by the MCA Department at Sri Balaji College of Engineering and Technology, Jaipur, Rajasthan, India.
Conference Theme:
Join us at NCASET, where professionals, researchers, and experts converge to shape the future through knowledge sharing and innovation in the realms of science, engineering, and technology.
Date:
Mark your calendars for the conference on September 13th, 2023.
Location:
The conference will take place at the SBCET campus in Jaipur, an ideal venue to foster intellectual exchange and collaboration.
Official Website:
For more details and registration, visit our official website: www.sbss.ac.in
Scope of the Conference:
Multidisciplinary Approach: Immerse yourself in a rich tapestry of topics, fostering vibrant exchanges of ideas across various domains.

Research Presentations: Engage with groundbreaking research, studies, and projects, nurturing intellectual discourse and constructive feedback.

Technology Applications: Uncover how scientific breakthroughs manifest in real-world contexts, revealing pragmatic implications.

Industry Perspectives: Gain insights, experiences, and challenges from industry luminaries, bridging academia and practical application.
Objectives:
Showcase and Elevate: Spotlight the latest strides in scientific and technological frontiers.
Foster Collaborative Synergy: Cultivate cross-pollination of ideas across diverse disciplines, kindling innovation.
Sharpen Professional Acumen: Gain exposure to cutting-edge research and technologies, refining your expertise.
Ignite Innovation: Stoke the flames of entrepreneurship through the exchange of pioneering ideas.
Sub Themes (not limited to):
Explore a diverse array of topics including
Cloud Computing
Big Data
Networking (Wired/Wireless)
Security & Cryptography
Artificial Intelligence
Android
Machine Learning
Robotics and Automation
Data Science and Analytics
Internet of Things (IoT)
Renewable Energy and Sustainable
Technologies
Biotechnology and Biomedical Engineering
Nanotechnology and Materials Science
Aerospace and Aviation Technology
Cybersecurity and Information Technology
Environmental Science and Engineering
Ecology, Conservation, Animal Biology &
Wildlife Biology
Bio-Diversity & Resource Management 
Social & Community Studies
Civics & Political Studies
Environmental Studies
Educational Studies
Recent Trends in Power Electronics
Heat Transfer, Smart Grid & Renewable
Energy
Fluid Dynamics & Hydraulics
Material Science
Human Values & Life Skills
Join us to navigate emerging trends, cultivate collaboration, and spark innovation in the world of science and engineering.
Convener:
Ms. Anjana Poonia: Associate Professor, MCA
Dr. Bhawana Mathur: Associate Professor, HOD- MCA