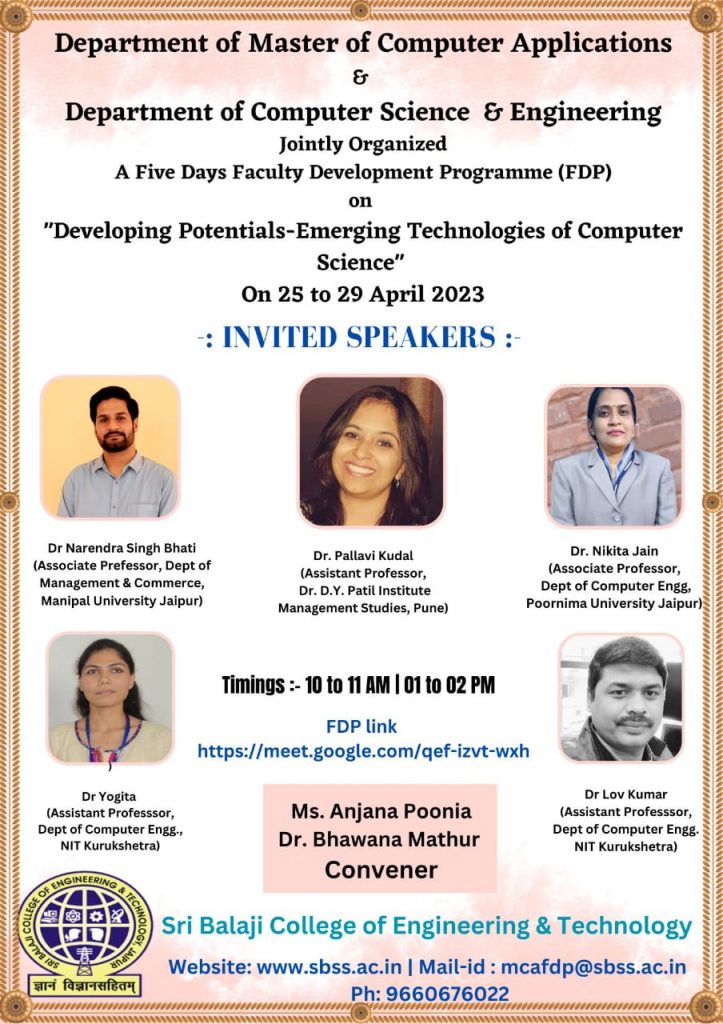 Greetings from Sri Balaji College of Engineering and Technology (SBCET), Jaipur!
SBCET was established in the year 2000 and is an ambitious initiative of Sri Balaji Siksha Samiti (SBSS). At SBCET, we are always committed to promote
education and research.
Department of Master of Computer Applications & Department of Computer Science and Engineering Jointly Organized Five Days Faculty Development Programme (Hybrid Mode) April, 25th -29th, 2023, on "Developing Potentials-Emerging Technologies of Computer Science". 
Participating students and budding research and skills will benefit from your vivid experience, insights, support, encouragement, and vision.


Course Contents:
Five Days Faculty Development Program on Developing potentials-emerging Technologies of computer science
Sales Force Applications and Their Usage
IoT with Raspberry Pi
Automatic Web Developed using AI
Introduction to Data Science
Information Security & How to Prevent Yourself from Preying Eyes of Hackers
Introduction to Data Science
Machine Learning Concepts for Security
Block Chain Technology
Mobile/Web App Development
Artificial Intelligence, Machine Learning
You can join the FDP using the link given below:
Google Meet Link: https://meet.google.com/qfb-htmr-nvb