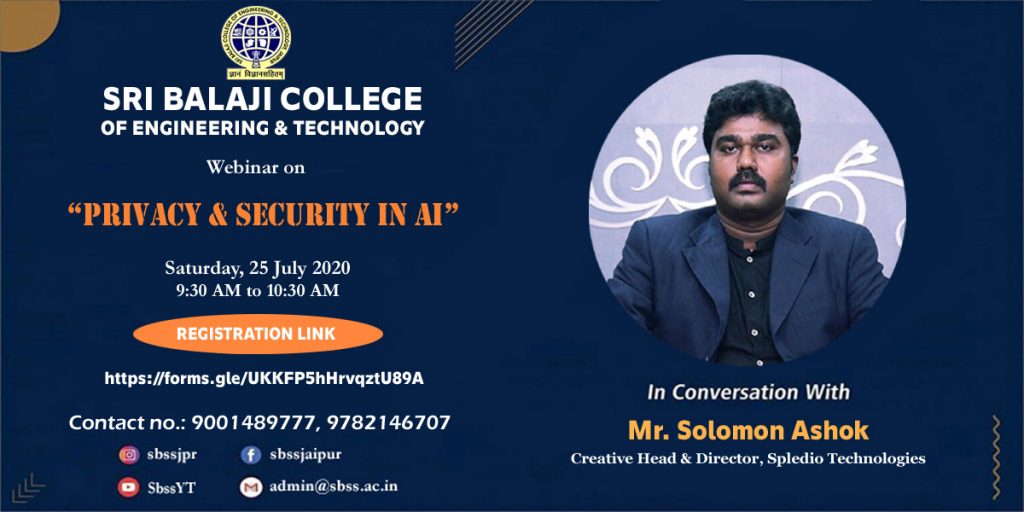 Greeting from SBCET!!!
Sri Balaji College of Engineering and Technology, Jaipur in association with Splendio Technologies, Chennai are organizing a webinar on Saturday July 25, 2020. This WEBINAR is designed specifically for Academicians/ Industrialist /Research Scholars/Students.
Venue : Sri Balaji College of Engineering and Technology, Benad Road, Jaipur
Date : 25 July 2020 (Saturday)
Timings : 9:30 AM to 10:30 AM
Presenter : Mr. Solomon Ashok, Founder & Creative Head, Splendio Technologies
Webinar Objectives
The aim of this webinar is to expertise the professionals highlighting in demand skills and organization building effective innovative teams, for privacy and security in Artificial Intelliegencies.
This webinar helps us to understand followings –
Use Cases of artificial intelligence paired with security applications in Real World
Future applications and potentials
Basic glossary of artificial intelligence and security terms
Mr. Shrinath Tailor, SBCET : 9001489777.
Mr. Amit Sharma, SBCET : 9782146707.
Registration Fee: Nil….**
E-Certificate will be issued to all participants after attending & submitting the feedback form of Webinar**
Join Zoon meeting @ https://zoom.us/j/97911177576?pwd=cjdhWUVqektFMUtKcTZIMGs4YitYUT09